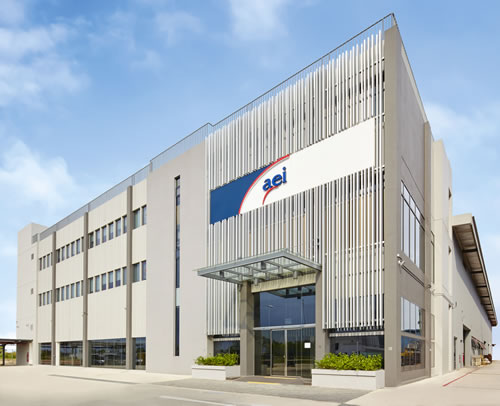 The Group's aluminium extrusion operation has been established since 1983. Today, as the sole aluminium extruder with cutting-edge technology production facilities in Singapore, we are able to respond to our customers' needs faster, and in accordance to the most stringent requirements and specifications of our customers.
Our precision component manufacturing operation provides our customers with the security and convenience of a one-stop turnkey service, from precision machining to surface finishing.
At AEI, we understand the importance of partnerships and continuous innovation. Through the company's strong technical competencies, well-positioning and commitment to customer service, we have forged valuable relationships with customers across diverse industries in the region.
At AEI, we have many great attributes to shape tomorrow's world.
Our Competitive Strengths
Strategic Location
We are the only aluminium extruder to have exclusive extrusion facilities located in Singapore. This enables us to deliver our products to our customers with a short turnaround time, fulfilling our customers' supply management requirements. In addition, our close proximity to our customers provide ease and flexibility for review and modification of product prototypes before mass production, which is crucial in the electronics and precision engineering industries.
Technical Capabilities
Through the years, we have built an extensive knowledge base for the production of precision extrusion profiles. Our ability to satisfy the most stringent requirements of our customers from the electronics and precision engineering segment is an endorsement of our technical capabilities as their requirements are more demanding than those required by extruded profile users in general. Our customers expect the highest quality from us. And we deliver it, time and again.
Established Customer Relationship
Our successful track record over the years has enabled us to build and maintain positive relationships with our customers. By working closely with them as a technology partner, we are able to quickly resolve any technical issues that may arise beginning from the design stage of the product life cycle. This attribute permits us to remain as their partner of choice when it comes to aluminium extrusion services.
Experienced Management Team
We have an experienced and committed team. Our Chief Executive Officer, Executive Director and Executive Officers are professionals of proven expertise with an in-depth knowledge of the aluminium extrusion industry.